PS3 Gamepad With Home Button
It's no secret the PS3 will work with most USB HID gamepads or joysticks. However the Home button is something special. If you connect your sixaxis controller to your PC and monitor button presses, the Home button comes up as button number 13. If you then create a standard gamepad with the same button mapping, the PS3 will refuse to recognize the Home button.
After some tracing of the USB traffic from an official Madcatz Street Fighter IV FightStick I was able to come up with a solution! There are 8 bytes transfered during the enumeration phase, just after the device sends it's report descriptor. Mimicking the same exchange results in the Home button functioning correctly when button 13 is pressed.
I used the amazingly awesome Teensy++ development board after being inspired by this guys work. I also used the report descriptor from Toodles UPCB project which appears to come from the SEGA VIRTUA STICK. This descriptor is very similar to the one from the Madcatz controller, except their is one endpoint instead of two which simplifies things somewhat.
I also created a shield (pictured above) which brings several pins on the Teensy to convenient screw terminals.
Source code and Eagle files are available in a git repository. Code is licensed under the GPL v3 and the PCB design is distributed under a Creative Commons license Attribution-ShareAlike 2.5.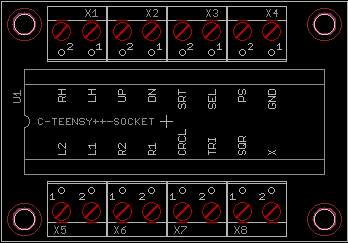 This document can be printed onto transparency for exposing your pre-sensitized copper clad. To use this for toner transfer, be sure to mirror the image first.
And a compiled version of the code in ihex. This is for the teensy++ 2.0. The code might work with other versions of the teensy, but a re-compile will be required.